Pensacola Children's Museum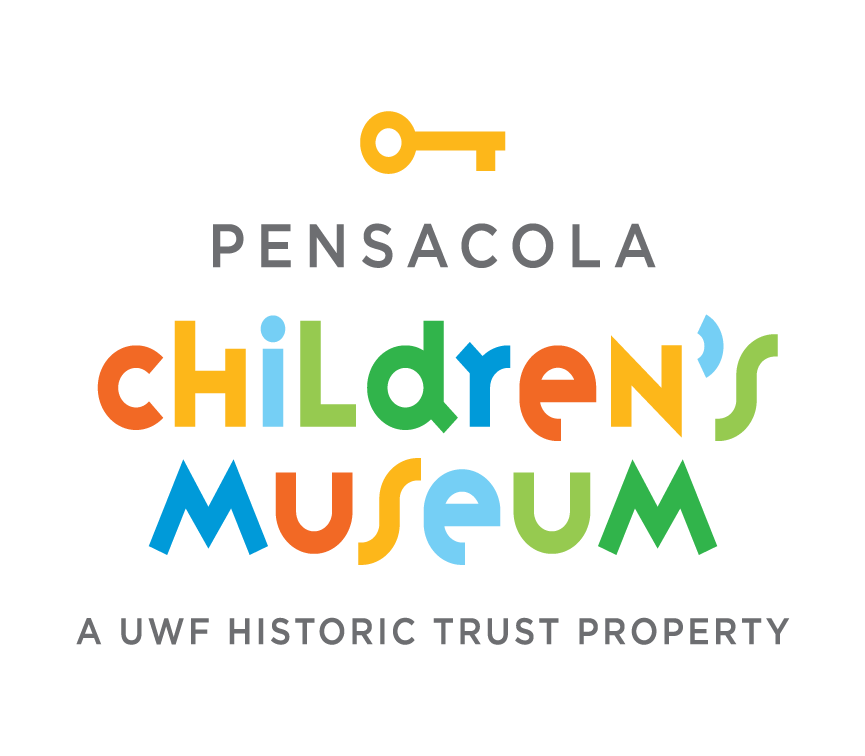 115 E Zaragoza St, Pensacola, FL 32502
| | |
| --- | --- |
| Monday | Closed |
| Tuesday | Open: 10:00-4:00 |
| Wednesday | Open: 10:00-4:00 |
| Thursday | Open: 10:00-4:00 |
| Friday | Open: 10:00-4:00 |
| Saturday | Open: 10:00-4:00 |
| Sunday | Open: Noon-4:00 |
The Pensacola Children's Museum is pleased to announce a new reciprocal admission program with the Pensacola MESS Hall. Present your Pensacola Children's Museum ticket at the MESS Hall and receive 50% off MESS Hall admission.
The Pensacola Children's Museum is open for regular admissions from 10:00-4:00. Our unified ticket provides admission to the Pensacola Children's Museum, the Pensacola Museum of Art, the Pensacola Museum of History, and Historic Pensacola Village for seven (7) days. A child must be a part of your group in order to enter the Museum. No unaccompanied adults allowed for the safety of our young visitors. All children must be accompanied by an adult. The museum is geared for children 10 and under.
Interested in birthday parties? See our Birthday Party Page.
Interested in giving a year of free admission to the Pensacola Children's Museum as a present? Gift a year of admission with a membership to the UWF Historic Trust.
Grandma Jenkins StoryTyme is Back!
Grandma Jenkins is ready to share her favorite stories once again! StoryTyme is at 11:00 a.m. on select Fridays. Free program in the Party Central Room. Grandma Jenkins taught elementary education for 39 years in the UK and loves sharing books with children. *Please note the tentative schedule. Dates may be rescheduled or canceled.
Friday, October 13: Elmer the Elephant
Friday, October 27: Room on the Broom
Friday, November 17: A Turkey for Thanksgiving
Friday, December 1: A Loud Winter's Nap
Friday, December 15: Santa is Coming to Florida
Nickelodeon Our World: Worldwide Day of Play
Join us on Saturday, September 30 for a day dedicated to experiencing joyful learning through play, join the Pensacola Children's Museum for a day focused on getting kids and their families up, out, and playing around! The Museum and the Pensacola Museum of Art will be open for free with events throughout the day at both locations. Our World: Worldwide Day of Play is part of Nickelodeon's Our World global initiative to inspire kids
and provide them with tools to activate their individual and collective agency.
10:30-11:30 Learn about water conservation and recycling with ECUA
12:00-1:00 Enjoy a presentation by the Pensacola Little Theatre's Education Department
2:00-3:00 Enjoy another opportunity to play with the Pensacola Little Theatre's Education Department
Field Trips
The Pensacola Children's Museum hosts field trips for schools, daycares, and camps. The museum remains open to the general public during field trips. Please note these dates and times when planning your visit.
Friday, October 6
Tuesday, October 10
Wednesday, December 6
Thursday, December 7
Pensacola Children's Museum Birthday Parties:
The Museum will be open to the general public for birthday parties during operating hours.
Saturday, October 14: 4:00 p.m. - 7:00 p.m.
Saturday, November 11: 3:30 p.m. - 6:00 p.m.
Sunday, December 17: 10:00 a.m. - 12:00 p.m.
Our Exhibits
Our exhibits are designed so that parents and young children can learn and play together through interactive spaces.
First Floor
The first floor of the Pensacola Children's Museum is the Discovery Gallery. Historic Pensacola in miniature! Children can interact and play in our first floor Discovery Gallery, where historic houses are pint-sized. Travel back in time to guard a fort, trade goods at the Post, or sail a Spanish ship.
The Kiddie Corral is a space reserved for our youngest visitors under age 3.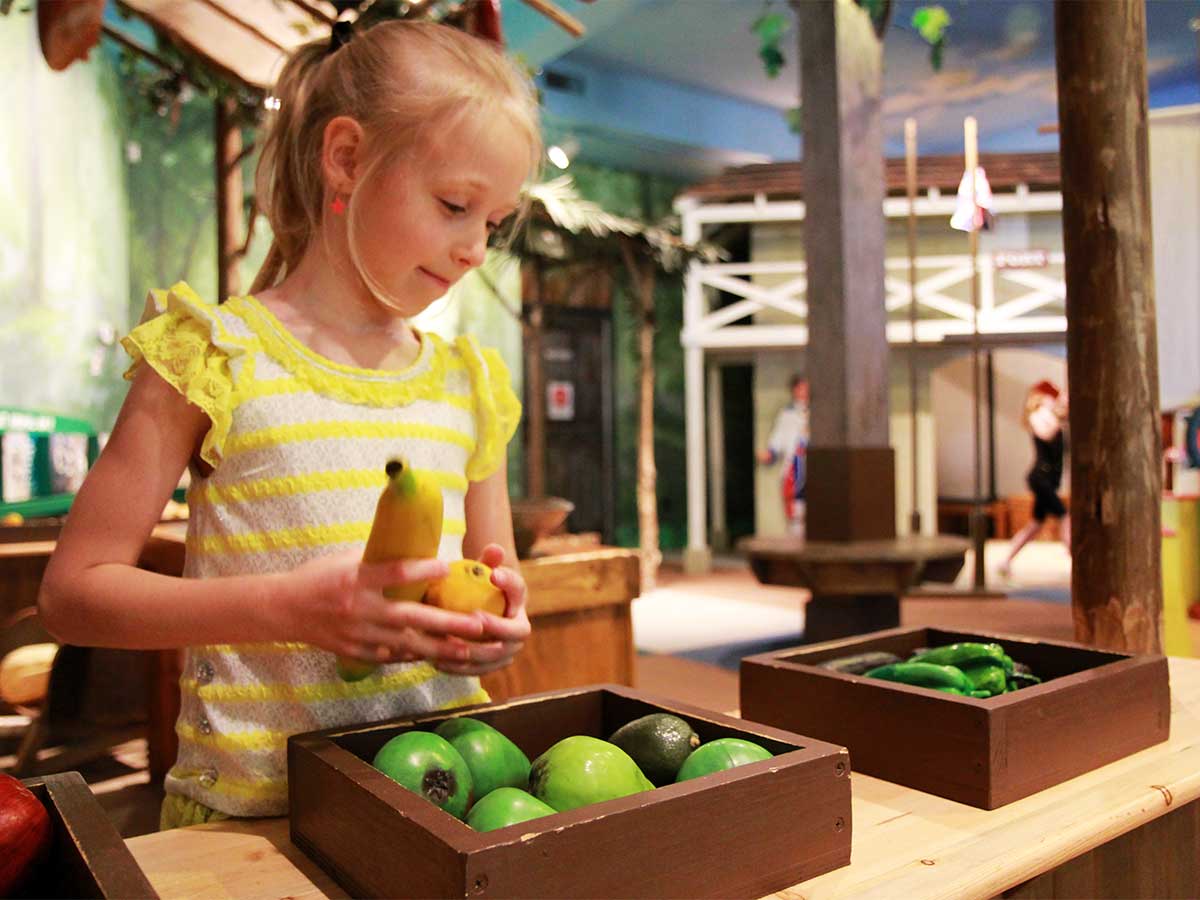 Second Floor Exhibits
Colonial Classroom
Experience education in a recreated one-room schoolhouse. Here, children can explore what school was like over one hundred years ago. Whether your child is teaching or listening, they can interact with modern technology in this space to understand the past.
Publix Super Markets Interacive Exhibit
Step into a Publix Supermarket in this immersive room. Sponsored by Publix Super Markets Charities, children can shop for groceries or stock the shelves with smaller versions of their favorite foods.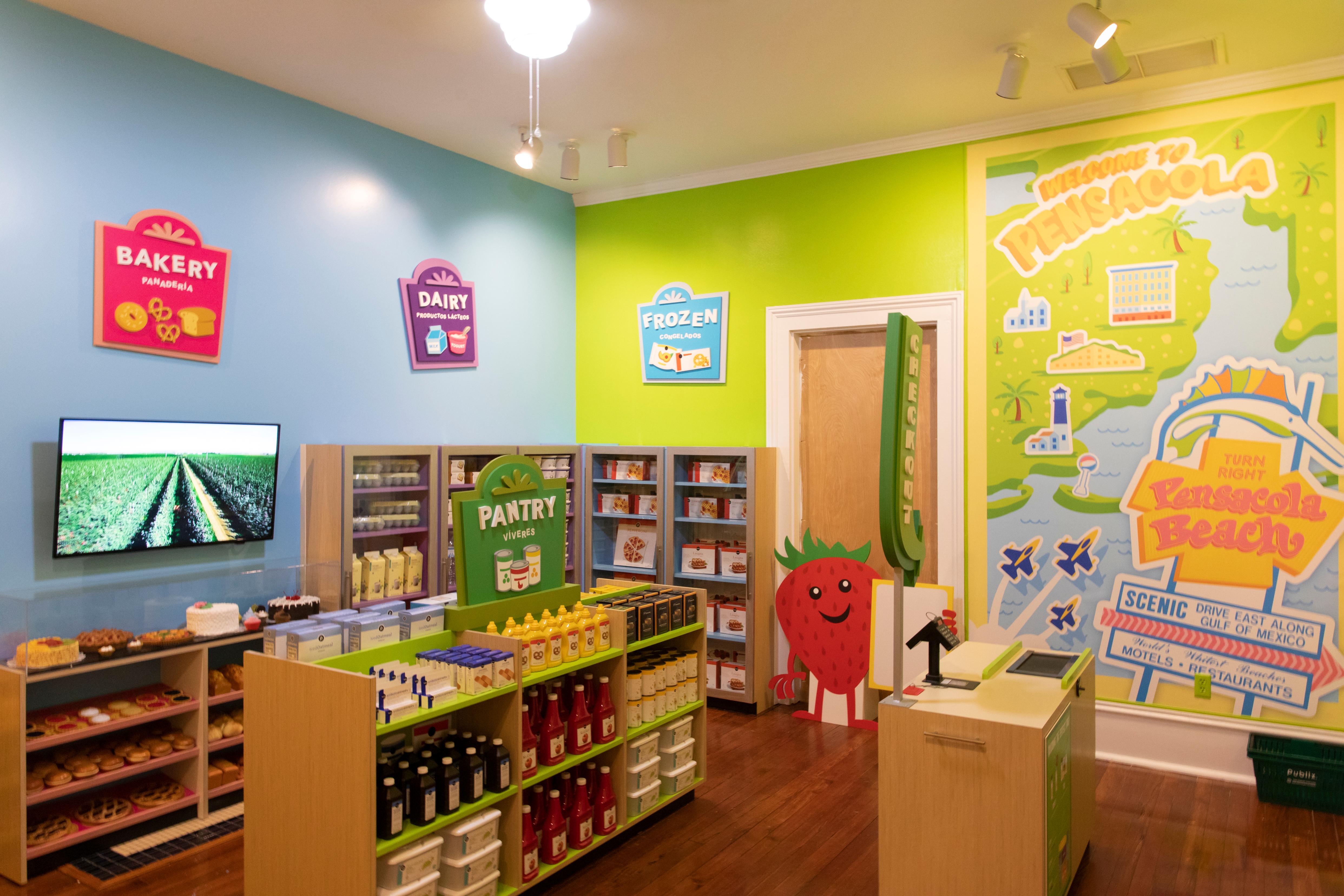 Land and Sea: Wonders of the Gulf Coast
From the ground to the Gulf, Land & Sea lets kids explore the connection between animals, nature, and humans. Dive into a world full of sea creatures, help our coastal friends build homes, or load cargo ships in this interactive gallery.